2020

- LETTERS FROM OUR FOUNDER,
DEBORAH BRENNER
WOTVS Pledge of Commitment to End Workplace Harassment
December 2, 2020
Dear Members and Friends, 
We did it! We surpassed the goal of 1,000 pledges and are still seeing more coming in! Thanks to you, more than 1,000 women and men made their voice count and signed the WOTVS Pledge of Commitment to End Workplace Harassment.
We received pledges from supporters around the globe in countries including Australia, Argentina, Barbados, Bolivia, Canada, France, Germany, Hong Kong, Hungary, Italy, Jamaica, Japan, Mexico, New Zealand, South Africa, Spain, Ukraine, United Kingdom, and the United States. We are encouraged to see the number of signatories continue to rise.
Together, we are standing in solidarity to demonstrate to the industry at large that we are committed to fostering a work environment in the alcohol beverage industry where all women and men can thrive no matter their gender, race, or sexual orientation.  
Our Groups: Online Discussions and Live Zoom Chats
WOTVS recently added new Groups which are essential in our efforts to foster conversations and create learning opportunities to aid in ending workplace harassment:
People of Color Alliance - led by Corporate Members Sarah Bettman, Director, Diversity & Inclusion, Constellation Brands and Erika Hopkins, Sr. Director, Culture & Corporate Social Responsibility, Republic National Distributing Company
Pride Alliance - led by Corporate Members Meredith Nelson, Brand Manager, Marketing, Pernod Ricard and Lauren Mutti, VP Labor & Employment Counsel, Southern Glazer's Wine & Spirits
Working Mothers - led by Corporate Member Marbet Lewis, Co-Founding Partner, Attorney, Spiritus Law 
New! WOTVS Resource Library for Workplace Harassment
WOTVS added a new category within our WOTVS Resources Library focused on Workplace Harassment. 
Members have access to downloads and information including "How to Help Someone you Care About", "Bystander Intervention Tips & Strategies" and "Safety Planning".
The resources are shared by such organizations as RAINN, the CDC, the National Organization of Sisters of Color Ending Sexual Assault, Love is Respect, the World Health Organization, and others. We will continue to add relevant content and invite you to share any resources you would like considered for inclusion.
New! 90-Minute Training Session Led by RAINN and Customized for WOTVS
Continuing with WOTVS' practice of tapping experts in specific fields, we are hiring RAINN to develop customized trainings for WOTVS. RAINN, the nation's largest anti-sexual violence organization, will provide our members with education to increase awareness around sexual misconduct and strategies for prevention. RAINN helps organizations meet the complexities of today's climate by moving beyond compliance toward values-based, sustainable solutions that promote safe and healthy communities. The date of the Training Session is being confirmed and will be announced soon.
Together, RAINN and Women of the Vine & Spirits, with the input of our members, will cover topics on prevention, healing, and bystander intervention. This will be achieved through sexual misconduct prevention and response training.
RAINN will develop and deliver a customized 90-minute training for members of WOVTS. This training will educate participants on the complexities of sexual misconduct, with an emphasis on addressing misconceptions, understanding the role that members play in shaping healthy communities, and identifying resources for those directly and indirectly impacted by these issues. 
WOTVS members will receive a resource guide that bridges the gap between the concepts discussed in the training and actionable skills specific to the participants' roles in prevention and response.
Additionally, RAINN will conduct a Pre-Session Survey to allow our members to assist RAINN in identifying the relevant questions and topics specific to our members' needs, provide members with context for the session, and provide awareness about RAINN's support services.
RAINN will also conduct a Post-Session Survey, used to help RAINN and WOTVS understand how the session was received by our members and to gain insight into possible additional needs or areas for further education.
We look forward to announcing more resources, trainings and live chats in the coming weeks. Together, we will continue to eradicate harassment and co-create a more diverse, equal and inclusive workplace where all can succeed!
All the best,
Deborah
---
Sexual Harassment In The Alcohol Beverage Industry
November 5, 2020
Dear Fellow Members,
I am writing to you today to address the recent news out of the Court of Master Sommeliers, Americas, one of the nation's most prominent wine organizations. Last week, the New York Times reported on a highly disturbing and longtime pattern of sexual harassment in the court. More than two dozen women came forward to report and share their experiences of harassment, manipulation and assault. Enough is enough. Women of the Vine & Spirits supports these brave women, the ones who came before, and those who remain in silence as well. We will not stand for the sexism that plagues our industry, and we will take action.
As you know, Women of the Vine & Spirits is built on a foundation of respect, integrity, and trust, and we are committed to creating and fostering a work environment in the alcohol beverage industry where all women and men can thrive no matter their gender, race, or sexual orientation. Our mission is to be a springboard for action; the connection to the brave collective. To that end, we commit to the following actions:
Create a Resource Library with tool kits for preventing, reporting and interrupting sexual harassment. Speaking up is a brave and important first step. And, we need to take the subsequent steps. In the coming weeks we will add to our online resource library actionable tools for taking back control from those who would keep women from advancing in this industry.
Convene our membership for professional led training and healing sessions. Stay tuned for an invitation to our first of many discussions focused on prevention and empowerment, as well as response and recovery.
Raise our collective voices. We will not be silent. In the next few days we will invite members to

 

sign on to a letter demanding the industry take concrete actions to investigate and address all acts of harassment and to take significant measures to eradicate prejudice and harm.
Please know I am available to speak with any and all of you who want to discuss this issue. As I have said before, together we have the strength, resiliency, and stamina to tackle these changing times and unique challenges.
In solidarity,
Deborah 
---
Racial Injustice
June 8, 2020
Dear Women of the Vine & Spirits Members,
I hope you and your loved ones are healthy and safe.
Last Friday, June 5th, I sat down to write this letter. It was the day of the Full Moon, a completion of a cycle, and a good time to reflect on issues that need to come out from the shadows and be in the spotlight.
As we are adapting to a new way of life, there is a light shining brightly on the inequities in humanity. Women won the right to vote 100 years ago and slavery was abolished 155 years ago; laws were amended, however, even in spite of our best intentions, unconscious or implicit biases remain.
We are in the midst of a great, and long overdue, evolution. One where we can all unite, link arms in solidarity and create a world more balanced, fair, equitable and peaceful for all.
After 15 years as a former wine supplier, wholesaler, and spouse of a restaurant owner, I founded Women of the Vine & Spirits. It was my mission to shine a light and advocate for greater diversity and inclusion in our beloved alcohol beverage industry.
At Women of the Vine & Spirits, we stand with those who are striving for real change. We stand with those against racism, injustice, and inequality. As a global community, we stand strong. Together, we have the strength, resiliency, and stamina to tackle these changing times and unique challenges.
What I started in 2015, can't be accomplished alone. The dedication of our global community is what drives our mission and fuels our actions.
All the best,
Deborah
---
COVID-19 Response
April 6, 2020
Hello Women of the Vine & Spirits Members,
May this reach you and your loved ones in good health and out of harm's way. Our goal during these unprecedented times is to be a beacon of assistance, service and hope to you, your employees and your business partners.
Our on-premise colleagues need our support more than ever so Women of the Vine & Spirits is pleased to offer any one affected by the pandemic complimentary access to WOTVS resources through June 15, 2020. 
In addition, we encourage them to apply for our scholarships. Our charitable arm, Women of the Vine & Spirits Foundation, 501(c)3, is currently accepting applications. In 2019, the WOTVS Foundation awarded 44 Scholarships, totaling $134,200.
Please help us spread the word and share the email below with your on-premise accounts, business owners, furloughed employees or those let go such as bartenders, sommeliers, F&B managers, etc. Together, we are stronger. Be safe.
All the Best,
Deborah
Cut & Paste to share this email with your colleagues affected by COVID-19
- - - - - - - - - - - - - - - - - - - - - - - - - - - - - - - - - - - - - - - - - - - - - - - - - - - - - - - - - - - - - - - - -
A Message from Deborah Brenner, Founder & CEO, Women of the Vine & Spirits:
Hello,
In response to COVID-19, Women of the Vine & Spirits, is pleased to provide you complimentary access to our dedicated community through June 15, 2020. For those of you that may know us, Women of the Vine & Spirits is the first-of-its-kind membership organization devoted to advancing women in the alcohol beverage industry.
Our forum was created for members to come together to support, mentor, educate and network together through a year-long calendar of events, trainings, live chats, and webinars. The women and men in our global network are passionate and committed to highlighting the talents and achievements of women in the alcohol beverage industry. You can view our corporate members by sector here.
This offer provides you an opportunity to meet our members, share personal experiences, learn coping strategies, hear creative ideas, learn best practices and more.
Once signed up you will immediately have access to member resources, so I encourage you to explore, participate, connect and collaborate as we all navigate through these challenging and uncertain times.
In addition, our charitable arm, Women of the Vine & Spirits Foundation, 501c3, is currently accepting applications for scholarships until June 30, 2020. In 2019, the Foundation awarded 44 Scholarships, totaling $134,200.
This is where our GRACE meets our GRIT and our POISE meets our POWER. Read the full WOTVS Pledge. 
Together, we can stay connected, sustain and prosper as an industry.  
All the best,
Deborah Brenner
Founder & CEO, Women of the Vine & Spirits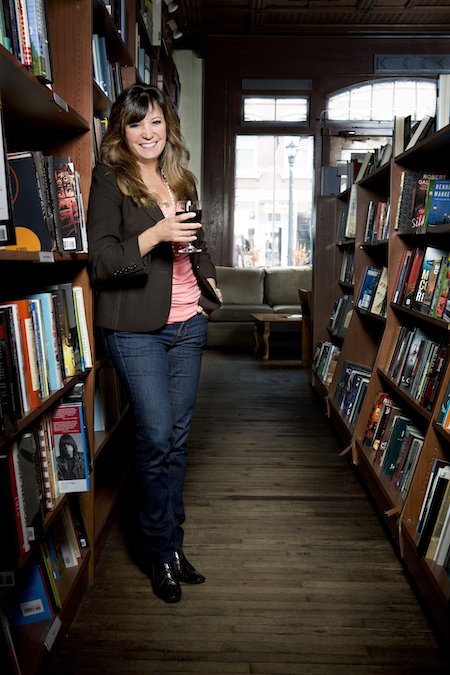 Deborah Brenner
Founder & CEO
Women of the Vine & Spirits