As a Social Entrepreneur, Deborah Brenner measures success on the positive impact a business makes on society. She has manifested her vision with Women of the Vine & Spirits, the all-encompassing global membership organization dedicated to boldly pushing the wine, beer and spirits industry toward a more diverse, equitable and inclusive era that supports business development and innovation, empowering all to thrive. 
Prior to entering the wine industry, Deborah spent 20 years in the male-dominated television and film technology industry. It wasn't until a fortuitous trip to Napa and Sonoma, that Deborah discovered another male-dominated industry, one where women were under-recognized. Compelled to tell the stories of these pioneering women in wine, Deborah authored a bestselling collection of profiles titled Women of the Vine: Inside the World of Women Who Make, Taste and Enjoy Wine, which Wine Spectator named a Critical Read. Through the process of writing the book and championing these incredible women, Deborah became inspired to enter the wine business herself, releasing wine from a first-of-its-kind collective of seven artisan women winemakers from Napa, Sonoma and Paso Robles, CA.
For seven years, Deborah learned the business inside and out, however, ultimately, she could not foster women in the wine industry the way she had hoped, which led her to dissolve the wine brand and return to the drawing board. A year later, in March 2015, Deborah organized the Inaugural Women of the Vine & Spirits Global Symposium, bringing women and male allies together to focus on actions the beverage alcohol industry could make to change the status quo. It was a sold-out success. The attendees eagerly supported the opportunity to connect through a global network and seek ways to accelerate their business and professional development. This forum allowed for collaboration across all industry sectors and inspired attendees to do business with like-minded women and men. It was clear to Deborah that to make a positive impact on the alcohol beverage industry, women needed a voice year-round and Women of the Vine & Spirits was launched. Women of the Vine & Spirits has become a catalyst for creating a positive impact in the alcohol beverage industry by giving women worldwide a platform and a voice to thrive. To further foster education and increase pathways for more women to enter or excel in the industry, Deborah launched the Women of the Vine & Spirits Foundation 501(c)3 in 2017. To-date, the Foundation has awarded 232 individuals with more than $595,600 in scholarships.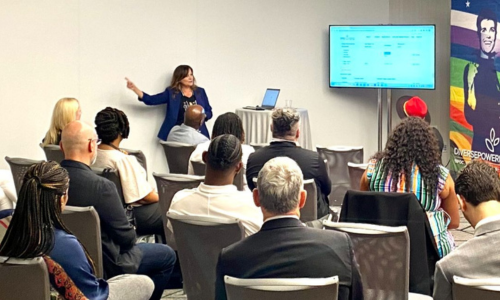 Deborah is also the Founder of Diverse Powered Brands™ - the premier centralized B2B global marketplace connecting diverse-owned, diverse-led and diverse-made brands to buyers, wholesalers, and supplier diversity managers across the entire beverage alcohol and hospitality industry. Creating a space to easily identify and discover diverse suppliers in all categories of beverage alcohol including non-alc. ensures that those who are part of historically marginalized and disadvantaged communities have the same opportunity for economic empowerment. 
Deborah resides in New York with her husband, Jack. Having been the spouse of a restaurateur who owned and operated an Italian restaurant for 24 years in Piermont, NY, Deborah is passionate about supporting hardworking hospitality professionals who are fundamental to the on-premise sector of the alcohol beverage industry. Deborah is a graduate of the University of Delaware. 
Deborah has received a Rising Star Award from Women for WineSense (2008), a New York Small Business Administration Women in Business Champion of the Year (2009), a New York City National Association of Women Business Owners Signature Award (2010), the Lillian Vernon Award for Outstanding Community Service by the Women's Enterprise Development Center (2011), a NY Women in Communications Rising Star Award (2013),  the Rockland Business Women's Network Woman of the Year Award (2014), American Cancer Society Dr. Louis Berger Award (2017), Wine Enthusiast Wine Star Award Person of the Year Nominee (2017), Las Vegas Inc. "Woman to Watch" (2018), Wine Enthusiast Wine Star Award "Social Visionary of the Year" Recipient (2018), and University of Delaware Horn Entrepreneurship Honor Circle of Inspiring & Innovative Women 2021 Amber L. Glassman Inspiration Award (2021).  


"5 Questions with Deborah Brenner"
- Wine Enthusiast Magazine Interview